Aug. 30, 2023
Meet Sarah: Mindful Touch's Newest Therapist and Cupping Specialist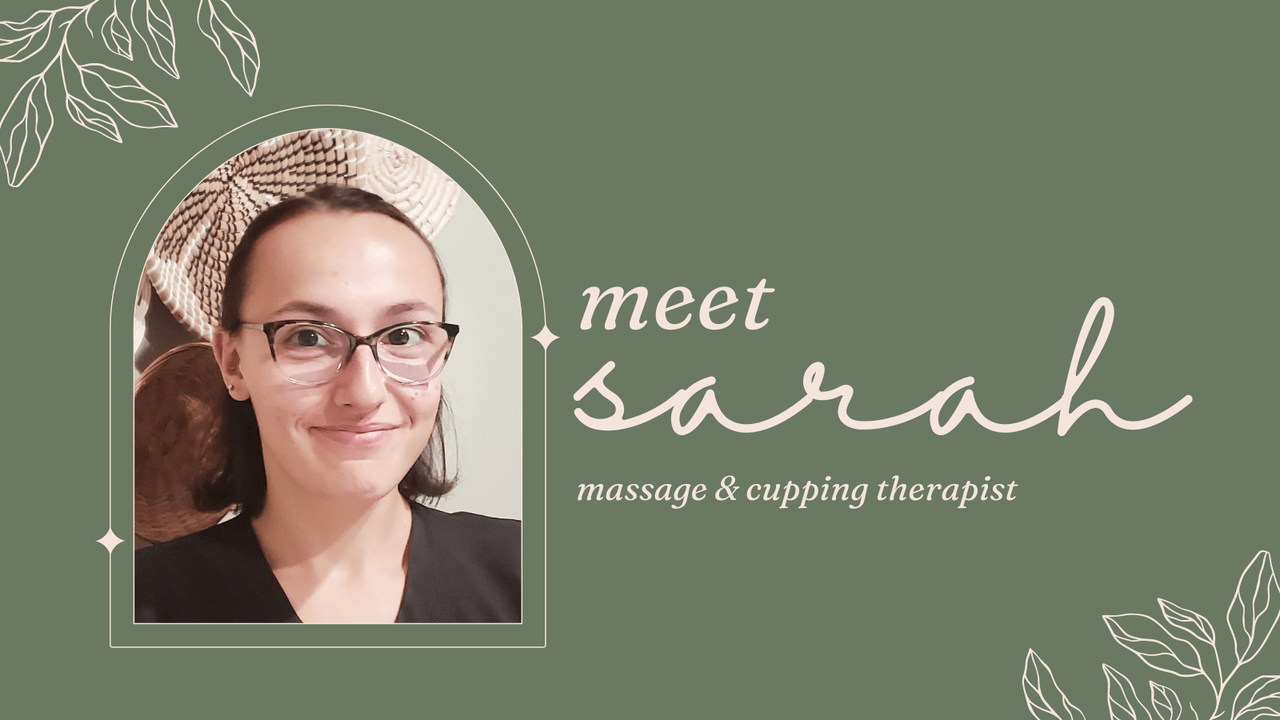 Thanks to our loyal clients' dedication to self-care and wellness, Mindful Touch Massage & Spa continues to grow, and now we are thrilled to introduce you to the newest addition to our spa family: Sarah Downs.
With a heart full of compassion and hands that bring healing, Sarah is here to provide you with the professional, highly skilled, compassionate massage and bodywork spa experiences you've come to expect at Mindful Touch. We're also excited that with the addition of Sarah to our team, Mindful Touch will now be expanding availability to include Saturdays and our services menu to include Sarah's specialty: cupping therapy.
Read on to learn about Sarah's journey with massage therapy and the unique offerings she brings to our spa.
Meet Sarah: A Touch of Empathy and Expertise
Sarah Downs is a Licensed Massage and Bodywork Therapist in North Carolina who strives to create a safe and relaxing environment for each of her clients. Her journey into wellness and massage therapy was ignited by a desire to alleviate the pain and discomfort that she watched her own family endure, including those grappling with PTSD, stress, cancer, and chronic illnesses such as endometriosis, osteoporosis, and arthritis.
Sarah's journey toward becoming a massage therapist led her from her long-time home in Maine to Tennessee, where she graduated from Reflections of Health School of Massage. Prior to her massage therapy journey, Sarah's background as a certified nursing assistant for six years instilled in her empathy and patience and taught her how to care for people and be a good listener.
Sarah's diverse skill set includes specialties in Swedish, Therapeutic, and Lymphatic massage techniques, as well as Cupping Therapy. She has additional training in treating Fibromyalgia, triggers and treatments for headaches, and oncology massage.
What is Cupping Therapy?
Rooted in traditional Chinese medicine and Egyptian and Middle Eastern cultures, the ancient practice of cupping therapy is a holistic technique designed to promote healing, relaxation, and balance within the body.
During a cupping therapy session, specially designed cups are placed on your skin. Using a combination of heat and suction, the cups create a gentle vacuum effect. As the cups are applied, they draw your skin and underlying tissues upward, promoting increased blood flow and encouraging lymphatic drainage. This process feels like a soothing, revitalizing pull on your skin. The cups may remain stationary or be gently moved across your body, depending on your preferences and areas of focus.
Wellness Benefits of Cupping Therapy
As the cupping therapy progresses, you'll experience a profound sense of relaxation and release as tension and stagnation are gently eased away. At the heart of cupping therapy lies a holistic intention: restore balance, rejuvenate your body, and create a harmonious flow of energy.
Cupping therapy offers a range of wellness benefits, including:
Relief from Tension: The suction created by cupping helps release muscle knots and tension, leaving you with a profound sense of relaxation.
Enhanced Circulation: Improved blood flow nurtures your tissues, fostering the body's natural healing processes.
Detoxification: Cupping encourages the expulsion of toxins through the lymphatic system, supporting your body's detox efforts.
Pain Management: If you're seeking relief from back pain, migraines, or sports injuries, cupping therapy could be the soothing solution you've been looking for.
Stress Reduction: The calming effect of cupping on the nervous system can help alleviate stress, promoting a serene state of being.
Experience the Benefits of Cupping Therapy at Mindful Touch
With Sarah's arrival, our spa family gains a dedicated healer, a unique modality in cupping therapy, and weekend availability. As always, the Mindful Touch team is dedicated to supporting you through your wellness journey, and Sarah is no different. Her priority is her clients and their well-being, so whatever your bodywork needs are, she is eager to help and will ensure you are cared for. Book your session with Sarah today and indulge in a holistic spa experience that nourishes your body, uplifts your spirit, and revitalizes your well-being.
A note: Sarah is available on Wednesdays and Saturdays starting September 6th. Her Saturday schedule is sure to fill up quickly, so if that's the day for you, we highly recommend booking your appointment as soon as possible!